Bless you for all of your good work. Hugs, Barbara
Moorbey'z Blog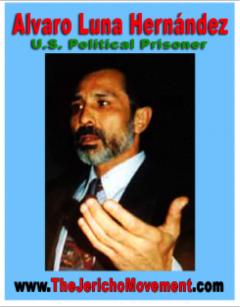 Above: Excerpt from an April 13th, 2016 letter from Xinachtli Luna Hernandez to his defense committee and supporters regarding prisoner solidarity.
Dear Alvaro Hernandez Supporter,
Xinachtli: Alvaro's New Name
First, we would like to inform Alvaro's supporters that we shall be referring to him as Xinachtli as much as is possible because he regards "Alvaro" as his slave name.
Xinachtli is Nahuatl for "seed".
Results of April 9th Email Campaign
The April 9th call to action that Xinachtli supporters partook in had the effect of angering prison authorities at the insolent defiance of those who are supposed to be quiet.
But more importantly, it had the effect of showing them and us that his overseers can't do what they want with him because there is a solidarity community overlooking Xinachtli.
New Minimum Objective: Safeguard Xinachtli's Health
The maximum objective remains: emancipation for Xinachtli.  Yet given the grim news recently…
View original post 405 more words